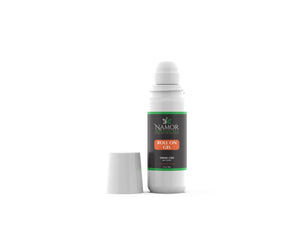 CBD (Cannabidiol) has been found to be an antioxidant which means it has the ability to reverse the signs of aging (wrinkles, sagging skin, dull skin tone) by counteracting free radical damage, caused by environmental stress and everyday pollutants.  CBD also improves the appearance of scars, wrinkles, and skin discoloration.
Relief Roll On Gel is one of the first relief products to include Menthol and 500mg of CBD! It's the next generation of relief and is one-of-a-kind. Convenient, effective and instantly relieves discomforts! Great for relieving aches, such as sore muscles and joints, strains, bruises, stiffness and more. It the perfect choice!
INGREDIENTS:  Menthol, Aqua, Alcohol Denat, Steareth-21, Glycerin, Caprylyl Glycol, Phenoxyethanol, Hexylene Glycol, Hemp-Derived Cannabidiol (CBD), Arnica Montana Flower Extract, Steareth-2, Cetyl Alcohol, Xanthan Gum, Boswellia Serrata Extract. Natural ingredients may discolor over time.
SUGGESTED USE: Apply to affected area not more than three to four times daily