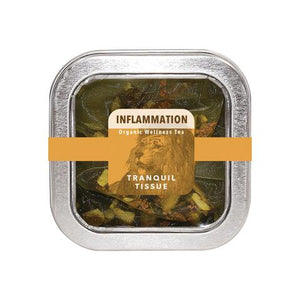 Tasting Notes: Citrusy, Chocolate, Spicy
A carefully crafted wellness tea with ingredients like antioxidant-rich turmeric, black pepper, and cacao nibs, Tranquil Tissue will nourish your entire body.
Key Features:
• Naturally Low in Caffeine
• USDA NOP Certified Organic
Steeping Instructions: Heat water to 200–212 °F, pour over tea and steep for 5–6 minutes. Serve and enjoy!
Caffeine Content: Low
Ingredients: Organic Orange Peel, Organic Cacao Nibs, Organic Pu'erh, Organic Turmeric, Organic Pepper Whole, Natural Chocolate Flavor, Natural Blood Orange Flavor