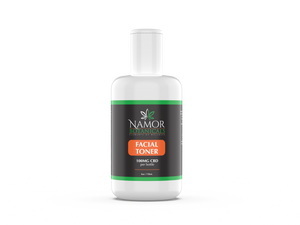 CBD (Cannabidiol) has been found to be an antioxidant which means it has the ability to reverse the signs of aging (wrinkles, sagging skin, dull skin tone) by counteracting free radical damage, caused by environmental stress and everyday pollutants. CBD also improves the appearance of scars, wrinkles, and skin discoloration.
A perfect blend of CBD and essential skin nutrients, Skin Care Facial Toner is packed with numerous benefits for your skin. Here are just a few: helps remove dirt, environmental toxins, oil build up and other residues. Helps tighten facial pores, hydrates skin to help maintain elasticity, creates a fresher, cleaner, and less oily appearance. Supports healthy skin and leaves your skin feeling soft and hydrated!
INGREDIENTS:  Aqua, Rosa Damascena Bud Extract, Polysorbate 80, Aloe Barbadensis (Aloe Vera) Leaf Juice, Hamamelis Virginiana (Witch Hazel) Extract, Glycerin, Phenoxyethanol, Ethylhexylglycerin, Polysorbate 20, Sodium Gluconate, Hyaluronic Acid, Hemp-Derived Cannabidiol (CBD), Citric Acid.
SUGGESTED USE:  Sweep over face and neck with a cotton ball after cleansing. Avoid the eye area. Can be used throughout the day to rehydrate and refresh skin. For best results, use after cleansing and exfoliating and follow with serum and moisturizer.